Hyatt Regency Lake Washington In Seattle Is Just About Perfect!
Hyatt Regency Lake Washington is a new entry into the Seattle market.  There's been a Grand Hyatt downtown along with Hyatt Olive 8 for quite some time.  They're both excellent properties.  There's also a Hyatt Regency in Bellevue, not too far away.  It's been a while since I stayed there, but it's also quite nice.  This newest Hyatt Regency is neither in downtown Seattle or the well-populated Bellevue.  It's south of Seattle in a new upcoming neighborhood alongside a Boeing facility. That makes for some great plane watching (more on that later).
Arriving At Hyatt Regency Lake Washington
The entryway and lobby area took me by surprise.  This looked like it was a very upscale hotel.  The Hyatt Regency brand tends to be a nice hotel, but if you want high-end finishes you'll have better luck with Grand Hyatt.  Walking into this lobby definitely felt more "Grand".  An expansive lobby with simple wood tones and some warm soft seating greeted me as I made my way to the front desk.
Check-in was quick and efficient.  Before heading upstairs I took note of the grand staircase in the lobby.  There's no clutter and I love the look of the wood finishes.  Can you tell I like simplicity?
Guest Rooms
I was lucky enough to be upgraded to a suite for my 1-night stay.  However, I did ask to see a regular room with a king bed.  Instead of a closet when you enter the room, there's a shelf with a rack to hold hanging clothes.  It's an interesting way to make the room feel bigger.  I'm not sure how it would look with clothes hanging there.  I suppose it wouldn't bother me, but might annoy others.
As a new hotel, it has updated amenities you would expect.  On each nightstand were standard electrical outlets and 2 USB outlets.  The alarm clock also doubled as an additional USB outlet.  The TV was a large, new flat-screen.
I regard this is a hotel that would cater to business travelers, but maybe I'm wrong about that.  While it does have a desk, it's tiny.  And, the chair is more leisure than ergonomic office chair.  That's the closest I can come to a complaint about this room.  If I was working in this room, I'd just camp out on the sofa/chaise.
The bathroom is beautiful with stone from ceiling to floor.  A glass wall reveals a shower with two shower heads.  Water pressure was great.
Lake View Corner Suite
I believe I ended up in a Lake View Corner Suite for my one-night stay.  This was a beautiful, spacious room with wonderful views of the lake.  And, if you're an aviation geek, a number of these rooms have a view of the Boeing facility in Renton.  As in, it's right next door.
My suite had a sizable dining room table and another of those small work desks.  I ended up working at the dining room table and in the living room.  There's also a small wet bar with a refrigerator.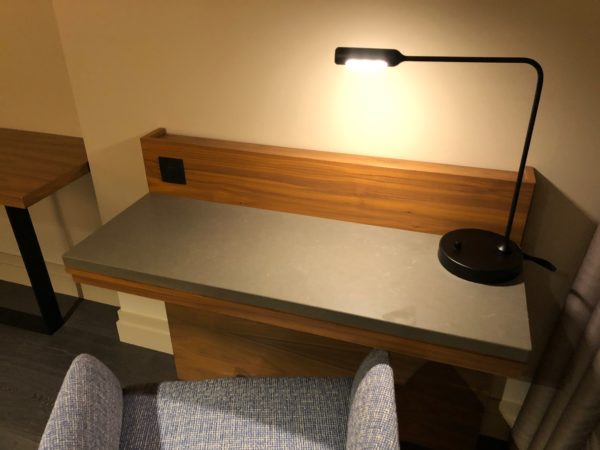 The living room had a large L-shaped sofa and some soft seating.  It was a comfortable place to work.  On the flatscreen TV, I noticed some additional tech that Hyatt is deploying.  Essentially, you should be able to stream many popular services to your TV.  I'm still a troglodyte when it comes to streaming services, so I didn't test this feature.
The bathroom had similar finishes to the regular room but was much more spacious.  I had a glass-encased shower as well as a soaking tub.  The bathroom was plenty big enough for two people to get ready at the same time.  The bathroom has CO Bigelow dispensers for shampoo, etc.  Not my first choice of scents, but they're popular at upscale hotels.
The bedroom was compact, with another flat-screen TV and some soft seating.  Proper outlets by the bed and a big closet finish out the room.  With the rest of the amenities in the other rooms, the bedroom is exactly what you need.  Proper doors between the rooms is a plus for me.  I generally get up early to work when I'm traveling.  I could let Michelle sleep in a bit while I showered or checked e-mail.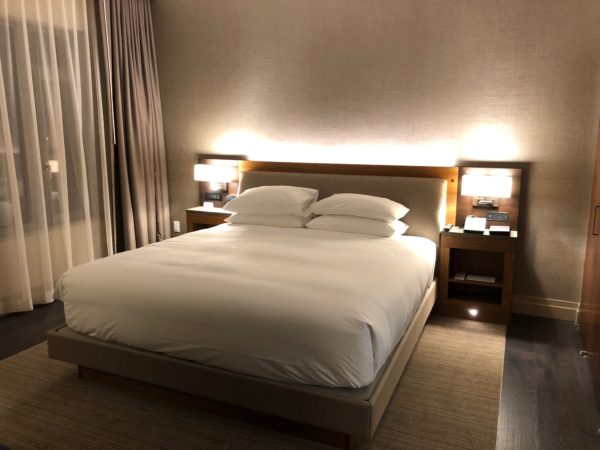 Pool And Fitness Center
The pool is indoors.  It's finished and lit beautifully, though a bit more natural light would make it even better.  There's plenty of comfortable seating and they added a few nice touches, such as a two-sided hot tub of sorts.
The fitness center is what you'd expect to find in a new, high-end hotel.  There are plenty of pieces of equipment and a really nice variety.  Now that I'm working out on a regular basis I appreciate a gym with more than a few treadmills.  If this hotel were a regular stop for me, I'd always find time to squeeze in a workout.  Such a plus!
Side note: If you're looking for a nice walk or someplace quiet to hang out, there's a very small island adjacent to the hotel.
Club Lounge
The club lounge reminded me of some of the more upscale versions you'll find at hotels in Asia.  It's oddly located on the main floor not too far from the front desk.  It also has glass walls for people to see in.  Your key card gets you access to a number of different seating areas.  There are a few TVs, soft seating, conference rooms, computer stations and standard tables.
The food selection is impressive.  There were multiple hot items, including a few Asian breakfast items.  Plenty of pastry, fresh bread, fruit, smoked salmon, fresh juices and bottled drinks.  Overall, I'd say the spread in the lounge is on par or better than the Grand Hyatt Seattle, another top-notch lounge.  These are the sorts of hotels where you get value out of elite membership.
Side note: I did try the breakfast restaurant out.  The service was bright and shiny, the menu interesting.  The food was a bit of a miss, which is unfortunate with an interesting menu.  I'll try it again on a future stay and hope for improvements.
The Market
There are very few hotels where the gift shop becomes part of one of my reviews.  I recall a pretty awesome one the kids liked at Hyatt Regency Coconut Point.  As a business traveler, I don't recall a market that was as good a fit for me, and not just because of the donuts.  There was a soft-seating area and some computers.  And, a pretty cool selection of food, drink and custom sandwiches.  Did I mention the donuts?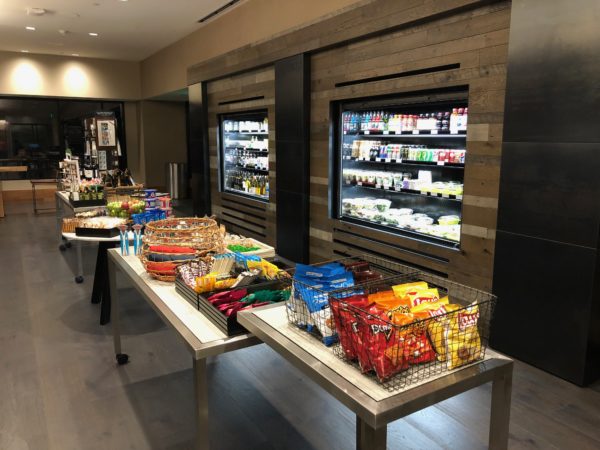 The Final Two Pennies
I love new hotels and the Hyatt Regency Lake Washington is a breath of fresh air!  If I traveled to Seattle more regularly, this hotel would have a serious chance of supplanting Hyatt Regency Denver as my favorite Hyatt Regency in the US.  Side note: I haven't written about that hotel in 5 years, but I really do need to update it.  Such an awesome hotel with excellent staff.
The hotel is a Category 3 in the World of Hyatt program. That means it will cost you 12,000 World of Hyatt points for a one-night stay.  Club rooms are 17,000 points per night and suites are 20,000 points per night.  Points and Cash are 6,000 points and $75 per night.
The Hyatt Regency Lake Washington is beautiful, head to toe.  The staff I came in contact with were all warm and inviting.  I can't wait to go back.
The post Hyatt Regency Lake Washington In Seattle Is Just About Perfect! was published first on Pizza in Motion