It was a short but fun ride on the American Airlines 787 inaugural flight from DFW to O'Hare earlier this week.  You can see the festivities here.
While I was onboard, I also got a chance to try out the new business class seat that is actually delaying the arrival of some of the American Airlines' 787s, and I got to hang out in the crew rest area for a few minutes.
The business class seat design seemed very smart in terms of location for things like the remote and the power outlets.  The number of outlets is awesome as well, with two universal power outlets and two USB outlets.  I had one friend who's both tall and wide say that he thought the seat was narrow around his shoulders when he laid the seat all the way down. Since I am neither tall or wide I can't say I experienced this, but it's worth noting for bigger folks.
It's 1-2-1 in business class, so everyone has aisle access.  This configuration is similar to the American Airlines 777-300ER that I flew last year to and from London.
The crew was nice enough to let us explore the pointy end of the plane.  The cockpit is spacious and modern, no surprise.
The crew rest area is accessed by a set of stairs directly across from the cockpit and has room for 3 people.  There's a seat that doesn't look terribly comfortable, and two beds for the crew.  Thanks to Gary Leff for snapping my pic.  I found the bed to be perfectly comfortable and certainly long enough for most folks to catch a good night's sleep.  There's even power outlets in the crew rest area for those that want to play a little Sugar Crush before sleeping.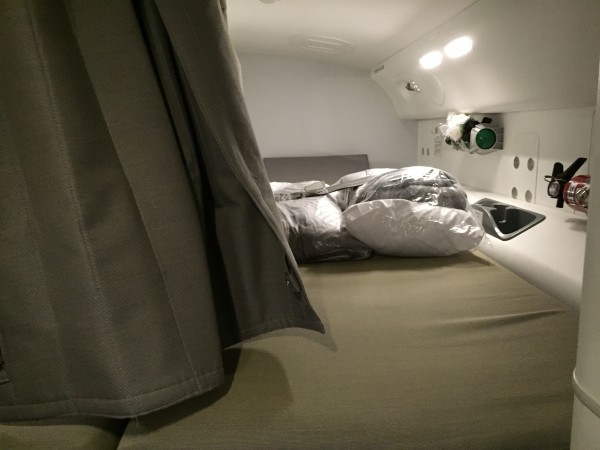 All in all, my observations were that it was a good business class seat with the modern features one would expect, though bigger folks may find a lack of shoulder space.  The 787 is a marvelous plane to fly. I've flown the 787 a handful of times on long-haul flights at this point, and I can absolutely tell the difference when it comes to the lower pressurization and addition of humidity as it relates to feeling jet lag.  I get off those longer flights feeling well rested and ready to go.  I'm thrilled to see American Airlines adding these to their fleet.  Initial routes to Beijing and Buenos Aires spin up next month, but I'm curious to see what routes American will introduce next.  Other airlines are already rolling out "long, thin" routes, places that the airlines used to need a 747 to reach but couldn't fill a plane that big.  There are some truly interesting possibilities.
---
The post American Airlines 787 Inaugural:  Business Class Seats And Crew Rest was published first on Pizza In Motion.
Don't miss any of the daily travel tips, tricks and strategies found here.  Follow me using one of these options: