Let's face it.  Premium lounges aren't something the Big 3 US airlines have been focusing on for quite some time.  When I think of a premium lounge, I think of the Lufthansa First Class Terminal in Frankfurt.  I don't generally think about awesome lounges in the US.  I'm giving away the punch line, but the new American Airlines Flagship Lounge has me thinking differently.
The Flagship Lounge is just finishing being built.  I don't think it's even really fair to call it a renovation.  This is a completely new space.  American Airlines let me sneak in during the soft opening and sneak a few pictures (along with a really good meal).  If you're familiar with the old Flagship Lounge, it's flipped spaces with the Admirals Club.  It's huge now.  Just huge.
There's a separate Flagship First Check-In area at the far right-hand side of Terminal 8 when you enter.  There are a variety of groups that can use this check-in area:
International First passengers plus 1 guest, either on AA or other oneworld carrier.
First class passengers on JFK-LAX, JFK-SFO and MIA-LAX.
ConciergeKey members plus 2 guests or immediate family.
Executive Platinum members traveling on international flights, regardless of class of service.
oneworld Emerald members who obtain their status through a carrier other than AA, traveling internationally or on the transcontinental routes noted above.
The Flagship Check-In area has some soft seating.  But, really, all the good stuff is through security and upstairs.  There's a private entrance to security where you can hop right into a TSA Pre-Check line.
Right after you pass through security in Terminal 8, you'll see the elevators to take you upstairs to the Flagship Lounge (and newly renovated Admirals Club).  From there, you can enter either the Admirals Club or the Flagship Lounge.  On top of all the folks listed above, the following groups are permitted to enter the Flagship Lounge:
Business class passengers traveling internationally on a oneworld carrier or the 3 transcontinental routes.
oneworld Emerald members who obtain their status through a carrier other than AA and are traveling somewhere in North America.
oneworld Sapphire members who obtain their status through a carrier other than AA.
Side note:  Right before you enter the Flagship Lounge there's a discreet door off to the side that's dubbed "Wellness Room".  Nursing moms will want to keep that in the back of their minds.
Flagship Lounge
Now that we've covered who gets in, what will you find when you get there?  Wide open spaces.  Cozy nooks.  Tons of natural light.  I only wish I had "before" pictures.  Those who remember the old Admirals Club lounge will remember a space without a whole lot of natural light.  There were bunches of columns and an under-sized bar area.  Past that, there were a bunch of small nooks and some cubicles.
The new space has knocked out pretty much all the columns.  There's a beautiful wall of windows that my pictures just don't do justice.  I somehow missed getting a panorama of the space to appropriately reflect the amount of natural light and spacious feel.
Andy from, wait for it……Andy's Travel Blog was there with a wicked cool camera and managed to get some much better pictures than me.
There are a handful of soft seating areas that have varying amounts of privacy. There's a good mix of long counters and smaller high-boy style tables.  There are also a few coffee stations away from the main buffet area, adding to the overall convenience.  Every table has two standard electrical outlets and two USB ports.  There's power everywhere.  Thank you!
And, there's even a feature champagne area in the middle.  Okay, there are other wines there as well.  But, when I saw bottles of Bollinger poking up out of the ice, I knew what was most popular here.  Rumors are that the Bollinger is by far the most popular choice, with many cases making their way to this self-service area throughout the week.  The other nice thing here is a well-rounded selection of other wines.  It's not just Chardonnay and Cabernet Sauvignon.  There's a nice Italian Pinot Grigio and Rosso di Montepulciano mixed in as well.
There's also a quiet room where folks can catch a nap or just find a quiet place to work.  Given the size of the lounge, I would expect it wouldn't get overly loud.  But, a separate quiet room is a nice touch.    A handful of the tables in the quiet room have wireless charging pads for phones enabled with that technology.
Showers
Anyone who visited the old Flagship Lounge and tried the showers knew they were, uh, sub-par.  That's a really kind way to refer to them.  The new showers are pretty darn awesome.  Brightly lit, very spacious.  There are robes and fluffy towels and upscale amenities.  Plus, there are a total of 8 showers.  That means there shouldn't be a problem getting one when you're passing through.
Buffet/Bar Area
If this was the only food in the lounge, it would still be pretty darn good.  There's a long buffet area with a sizable rotating menu.  Just a few of the choices when we were there included:
Honey Spiced Roasted Turkey
Chilled Roasted Tenderloin
Pickled Cumin-Carrot Salad
Shrimp Cocktail Shooters
Chilled Crab with Asparagus Salad
Chorizo
Duck Pastrami
Manchego
Some spinach tofu thing they say is a huge favorite (I wouldn't touch it with a ten-foot pole)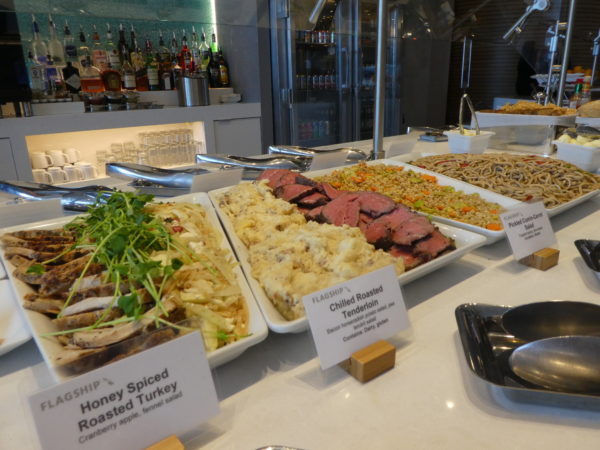 The dessert area was pretty special as well.  I was particularly drawn to the homemade miniature whoopee pies.
The bar is pretty well-stocked.  It starts with a refrigerator filled with bottles of water.  Even some of the nicest clubs in Europe have larger communal bottles of water, usually strewn about in various levels of consumption.  I'd take a fresh bottle of Acqua Panna over that setup pretty much any day.  Right next to that is a Coke Freestyle machine.  I'm a Coke guy, not Pepsi.  And, the Freestyle machines are pretty badass for flavor combinations.  Am I a wimp for just going for original Coke?
Coffee fans will enjoy the specialty coffee machine.  I'm definitely not the right person to judge this, my wife is the coffee fiend in the family.
I'm not a big hard liquor drinker.  Most of my family can handle decent quantities.  But I'm a bit of a sissy when it comes to vodka, single malt scotch and the like.  A quick perusal of the bottles makes me think there's something here for most liquor drinkers.  I've definitely seen more high-end selections in other lounges, but I think this list holds its weight.
Finally, there's a refrigerator with dozens of self-service beverages.  Juice, Pellegrino flavored sparkling waters and traditional cans of soda.  There's also some specialty sodas and mixers.  Finally, there's a full refrigerator of different beer types.  Unfortunately, I completely forgot to snap a picture of the beer selections on my way out of the lounge.
The Final Two Pennies, Or Is It?
This post is getting kind of long, so I'm going to split off the Flagship First Dining experience into a separate post.  It's well worth your time to read that.  But, what are my overall thoughts on the Flagship Lounge?
AA really did a great job with this space.  As I said earlier, the transformation of an awkward space into something really beautiful was a sight to see.  It's obvious there was a lot of thought put into the end product.  Attributes like the self-service wine area, the quiet room and the kick-ass showers make this a legit top-tier lounge.
United is trying to up their premium lounge game with their Polaris product.  I haven't had a chance to tour their version yet.  Hands down, this is absolutely the best lounge for a US-based airline I've been in.
Stay tuned shortly for Flagship Dining….
The post The New American Airlines Flagship Lounge At JFK Is…..Awesome!